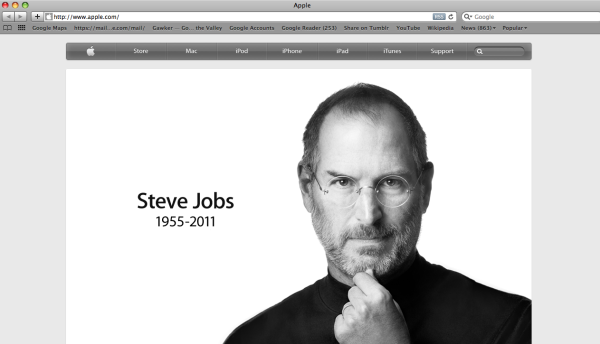 As the world memorializes Apple founder Steve Jobs this evening, we're meditating on how the innovations of one man have pushed so many sales leaders to go above and beyond their highest aspirations for their companies and their teams.
Selling Power magazine publisher Gerhard Gschwandtner has often noted that Steve Jobs has always been "at the center of the innovation process." When the iPad was first released, Gschwandtner bought one immediately, and declared that the device was destined to fundamentally change how salespeople work, sell, and play. He outlined three ways the iPad represented visonary innovation:
Laptops are not designed for sharing. The iPad will pull people from isolation to a place of co-creation.

Laptop screens are not dynamic. The iPad screen automatically orients itself in relation to your movements. The image on the screen flips from horizontal to vertical and from top to bottom automatically.

Laptops emerged at a time when the world was still linear. The iPad allows people to leave that static world so they can connect with the dynamic flow of human intelligence online and offline.
In a conversation economy, driven by Sales 2.0 technology and process, social networks and real-time exchanges, the iPad has come to represent a new age for sales teams trying to start meaningful and engaging conversations with prospects and customers. Gschwandtner describes a meeting he had with a CEO:
I brought my iPad; he had his laptop. During our conversation, we discussed how many different tasks salespeople need to perform to drive customer value. The conversation brought to mind an interesting chart I received in an email the same morning. I pressed the start button on my iPad, and it came to life instantly (there is no staring at a blank screen for two minutes). Within seconds, I pulled up the email, clicked on the message, and handed the iPad to [the CEO], who studied it and asked for the URL so he could share it with his team. I simply forwarded the email and the conversation resumed.
The iPad added instant value to the conversation, and it blended in naturally, which added a touch of elegance to the discussion (and of course a little iPad envy). In this case, the iPad delivered content in real time. In effect, this experience would not have been possible with the use of a laptop. After all, who would want to wait two minutes to make a point?
To invent and produce this kind of technological product — one that courts customers with an unparalleled combination of elegance and function — Jobs had to maintain a ruthless focus on the end goal. During a presentation in 1997 (as outlined by Jon Steel in the introduction to his book Perfect Pitch: The Art of Selling Ideas and Winning New Business) Steve Jobs described innovation as an exercise in discipline. He drew more than a dozen boxes on a dry erase board and labeled them with names of Apple products still in their project stages: Cyberdog, OpenDoc, G4, iMac, etc. Jobs told the assembled group that Apple had invested millions of dollars in pursuit of each product. Then he began crossing them out.
"In the past days, I've killed this one, this one, this one…" Jobs said, until all that were left were G4 and iMac. "These two projects that remain represent what we always wanted this company to be about; they're technologically superb and visually stunning. And I'm going to bet the future of this company on them."
At the heart of innovation is change. Jobs' legacy is a reminder for sales leaders that technology is a powerful driver of change. But the nature of change itself — the necessity of letting go of one thing to make room for something new — is also a reminder to seize the day. As Steve Jobs said in a 2005 Commencement address at Stanford:
No one wants to die. Even people who want to go to heaven don't want to die to get there. And yet death is the destination we all share. No one has ever escaped it. And that is as it should be, because Death is very likely the single best invention of Life. It is Life's change agent. It clears out the old to make way for the new. Right now the new is you, but someday not too long from now, you will gradually become the old and be cleared away. Sorry to be so dramatic, but it is quite true.
Your time is limited, so don't waste it living someone else's life. Don't be trapped by dogma — which is living with the results of other people's thinking. Don't let the noise of others' opinions drown out your own inner voice. And most important, have the courage to follow your heart and intuition. They somehow already know what you truly want to become. Everything else is secondary.