By Josiane Feigon 
Millennials are rocking the sales world big time. We love their boldness, spirit, and eagerness to participate. Fortunately, these young and energetic team members are also savvy, successful sellers who want to learn in their own style: collaborative, congenial, and competitive.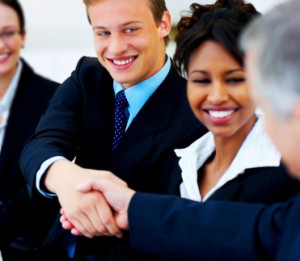 But they can also send sales managers scrambling; Millennials tend to want answers now, and they can become bored with traditional sales-training methods. Because these superheroes will dominate our sales universe before you know it, we've compiled this field guide to the Millennial generation's special qualities:
They thrive in a chill workplace. A chill workplace feeds their soul and a work-life balance, and it encourages new friendships. Millennials are not necessarily interested in paying their dues: 93 percent say they want more than a paycheck; they want a job that works with their lifestyle.
Just ask Siri. In today's search-driven, quick-response, high-pressure, digital and social Sales 2.0 environment, managers feel like they're channeling Siri – and it's not fun! The Millennial generation, who make up the vast majority of new hires, wants your answers delivered to their inbox NOW.
"Tell me why." Millennials are also sometimes known as Generation Why, because they crave understanding. They need to smell, taste, touch, feel, and understand every reason why something works and why it doesn't.
They fear being kicked off the island. Many Millennials grew up watching such TV shows as Survivor, The Bachelor, The Real World, American Idol, and The Apprentice. They understand (and fear) getting "kicked off the island." They can be hard on themselves and mistake feedback for rejection. In general, they need to learn the real meaning behind customers' objections.
Are they  always job hunting? Millennials will hold up to 11 jobs by the time they are 38 years old, but that doesn't mean they will work for 38 different companies and should be treated as disposable workers. They have staying power. According to Hireology's "Inside the Mind of a Millennial Job Seeker," they will stay longer if they are kept engaged.
What's next? Millennials tend to be hungry for new activities that keep them engaged. In the training world, that means you must vary the learning method from partnering to break-out sessions to standing up and writing on whiteboards.
Microcoaching is a must. Today's Talent 2.0 is watching every step you make, and these employees want you to reciprocate – they love attention, and they want yours. Millennials don't need help with the dailies as much as they need help with strategy, ideas, techniques, and tips. Sixty-one percent of Millennials say they need specific directions from the boss to do their best work.
"How am I doing?" Millennials thrive on regular – read: constant – feedback. They want to always know where they stand and are hungry for reinforcement. They always look for acknowledgment, which helps them learn and retain information.
They love rewards and prizes. They look for recognition. They want to know where they stand and get rewarded for it. But be warned: they could very well be bored by coffee-shop gift cards and trinkets. For them, it's all about access, not possession. My take? Go with gift certificates to Netflix, Amazon, or AmEx instead.
Join us in the playroom! Taking short breaks is important because it allows your team to recharge. Some companies provide a playroom, with foosball, shuffleboard, and darts, where workers can actively take their mind off work.
Training must be very visual. Millennials need Facebook, Instagram, and video validation. They grew up with their lives heavily documented on video and in photographs and scrapbooks, and they are part of the "quantified self" generation. Forget tons of data and reading – training must include the "visual bling" component.
They defy authority. Hierarchies don't exist for Millennials. Their parents wanted to be their "peer-ents," so they grew up believing they were equals with authority. They trust their peers more than they trust authority figures. Sales Millennials break the barriers when it comes to hierarchy, and they place more value on their workplace being fun and social. Company-sponsored happy hours have replaced meetings.
They're hungry for a home. According to theguardian.com, Millennials are sitting on huge school loans, so more than ever, they have to earn a steady income. They want you to provide a comfortable home – that is, a fun place to work where they can bring their friends, who are their fellow team members. Maybe they'll never move out of the comfortable "home" you built for them.
They're always on. The need to be "on" all the time is a reality but not a good one considering today's multiple mobile devices. This is serious: 60 percent of workplace distractions come from email and social networking, and 14 percent of workers say they will tune out a meeting to Tweet or update their status on a social network.
Download your copy of the 14 Smart Inside Sales Trends in 2014 report and stay ahead of today's rapidly changing Sales 2.0 trends.