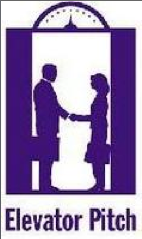 I recently read a blog post by Gerhard Gschwandtner which posed the question: "Is 'the pitch' dead?" Ya know, the good old-fashioned elevator sales pitch — is it still relevant?
It got me thinking about when I first came to Dyn two and a half years ago from WhippleHill (a software company for private schools) because Dyn had no 'pitch.' We had no singular message or way of talking about our brand identity in a way that people could relate to. We needed to craft a genuine story that people could get behind, believe in and yearn to be a part of.  I didn't know a ton about the technology at Dyn (DNS – Domain Name System), so it was also a great way to get up to speed.
Before phones, radio and television, people looking to make a transaction and achieve sales success actually met in person to do a business deal. (Imagine that!) There was a straight-in-the-eye look, trust-building conversations, and a firm handshake that led to contracts getting signed.
Today, the same thing happens but the look, trust building and handshake doesn't simply occur between two parties. It happens between employees, fans, prospects, customers, followers and friends. There is an abundant supply of online reviews, magic quadrants, hungry competition, analyst briefings, crazy analytics, community sites, Twitter, Facebook, customer references and more to sift through. You simply can't slack off, because competition can pounce at a moments notice.
The function and business of sales itself always seems to carry a negative connotation. I know it did for me growing up. It's no secret that there are plenty of sleazy sales jobs out there or overly corporate slick practices to convince people to buy whatever wares are being served up.  The amount of spin and BS being spit out has given sales — and more specifically 'the pitch' — a bad name. It's up to sales leaders like us to reinvent 'the pitch' and ensure that its genuineness shines and that dialogue (not monologue) flourishes.
When we bring sales people aboard at Dyn, they must learn four key things before they're truly unleashed to rep us. All four things are what end up making up our unique pitch — one that continues to evolve with every customer win, technology advancement, industry shift or overall achievement of company milestones.
Here are the four key aspects of the Dyn Pitch:
1. The Dyn Story
Our roots: how we were founded, how we grew, how we were our very own first customer, how everything we've ever done has been because of customer demand and how we're really just like those we want to do business with: dedicated.
2. The Dyn Difference
Our straight–forward, transparent (we overshare), high road, direct, and impassioned approach. We love to talk about and show our commitment and loyalty to our customers, our strong relationships that go beyond the dollar value of an account, our obsessive account management and support, and our flexibility in contracting, pricing, and product enhancements. We keep it real in an industry that tends to be old school, slow and very corporate.
3. The Dyn Customer, Case Studies & Vertical Markets
We are just like our customers. We're fighting tooth-and-nail to grow and experience great success in a unique way that we can be proud of. We focus on everyone who values his or her presence online. We've redefined what it means to be enterprise, how to practice a customer-centric and solution-selling approach, and drive ahead with our customers and vertical market focus in the spotlight.
4. The Dyn Technology
We are Infrastructure as a Service (IaaS) for managed DNS and email delivery, but what is DNS? What is email delivery? Why outsource? How does our technology work? What problems does it solve? Smart customers want the keys to the car and want to test drive the services themselves. We let them, and expose them to experts from the word go. When technology stands on its own two feet, it's easy to sell. The technology is the last thing we have people learn. (Again, imagine that!)
The two most important things I tell anyone coming into our sales organization are: 1) people buy from people they like, and 2) you know what you don't know.
We explain that even if you don't win a deal at the end of the day, do everything in your power to ensure that the prospect likes you so much that he or she feels terrible about letting you down. Sales success is about using all your resources to deliver for your prospect or customer.
Recently, the VP of Sales at a large public competitor, whom I respect very much, asked me how we were finding DNS sales reps in New Hampshire. I told him very pointedly that we're not selling just DNS and we're not just hiring sales reps. We are hiring honest, passionate and persistent people to round out our sales team and that they must possess two key characteristics: fit and hustle.
Once they learn 'the pitch' and how to share it, the sky is the limit for them and for Dyn.